"The Burbs" is making massive changes to their beauty range.  The headliner is the new 'Wet & Dry Glow' eyeshadows that will make our lids look like The Hope Diamond.  This formula is essentially Burberry's version of NARS' Dual Intensity eyeshadows.  Burberry is known for their creamy, effortlessly blendable powders.  To my dismay, I actually find the NARS Dual Intensity shadows to be much softer.  To be honest, these Wet/Dry shadows are a consistency I'm unfamiliar with. Upon first swatch, it's a dense, firmly compacted powder that you wouldn't possibly think could spread like butttahhh, but oh do they create the most beautiful sheen.
I've tried these shadows in countless ways: dry, wet, fluffy brush, stiff brush, sponge tip applicator, finger, wetting the brush, wetting the eyeshadow itself and using a combination of wet and dry.  This is tough work, but someone has to do it.
Here's what I know:
Screw the rules or what people tell you works best and go with your gut.  I've seen 17 different "expert" opinions telling me what to do, but ultimately there isn't one particular method I preferred over another.
I did learn that, ironically, the sponge tip applicator (when wet) packs the biggest punch.  Don't throw that baby away!
I, personally, do not like wetting the eyeshadow itself.  I have preferred wetting the actual brush or applicator.
If you love to keep your makeup perfectly intact, these aren't for you.  Once you dig a wet brush in there a few times, that beautiful check pattern begins to resemble slosh.
I haven't had any issues with fallout or tacky glitter encounters.
I like them equally when used wet or dry.
I use the NARS #43 brush with these for a quick, effortless application.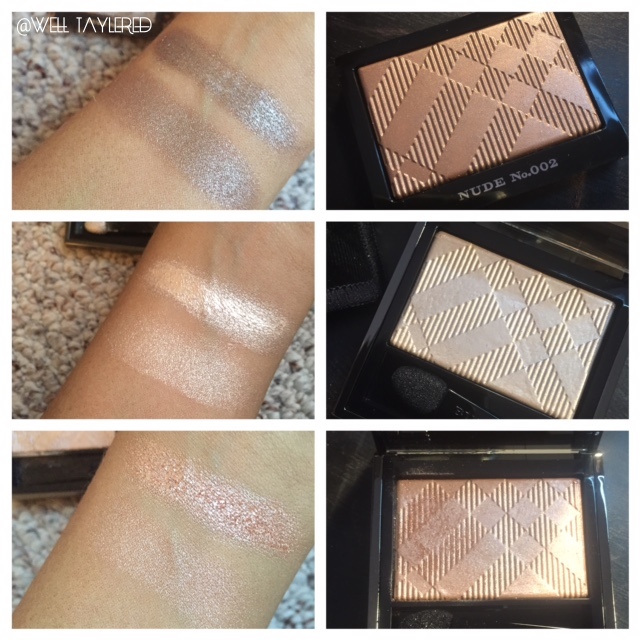 (The top swatches are the eyeshadows when wet.)
Nude – Kind of the new 'Pale Barely', ehh? It's one of those colors you can transform in a million ways.
Gold Pearl – The perfect metallic, pearl shade.  It literally looks like the inside of an exotic shell.  I need to try using this as a highlighter!
Shell – A peachy, goldeny, shimmery and every other "y" shade.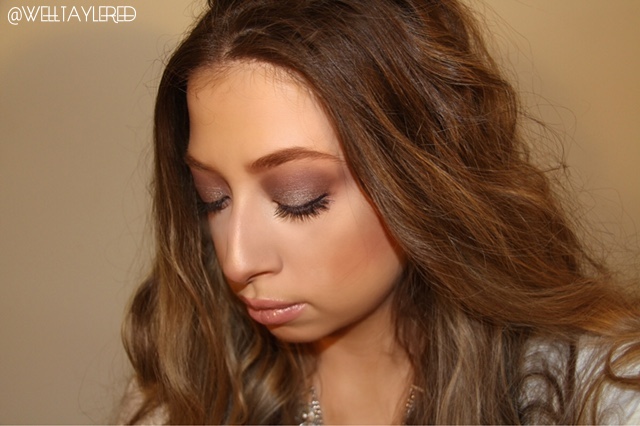 Here I used Tarte's SmolderEyes in 'Gunmetal' and then applied 'Nude' both wet and dry over that using the NARS #43 brush.  For a subtle brow bone highlight, I just used my NARS Pressed Powder in 'Beach'.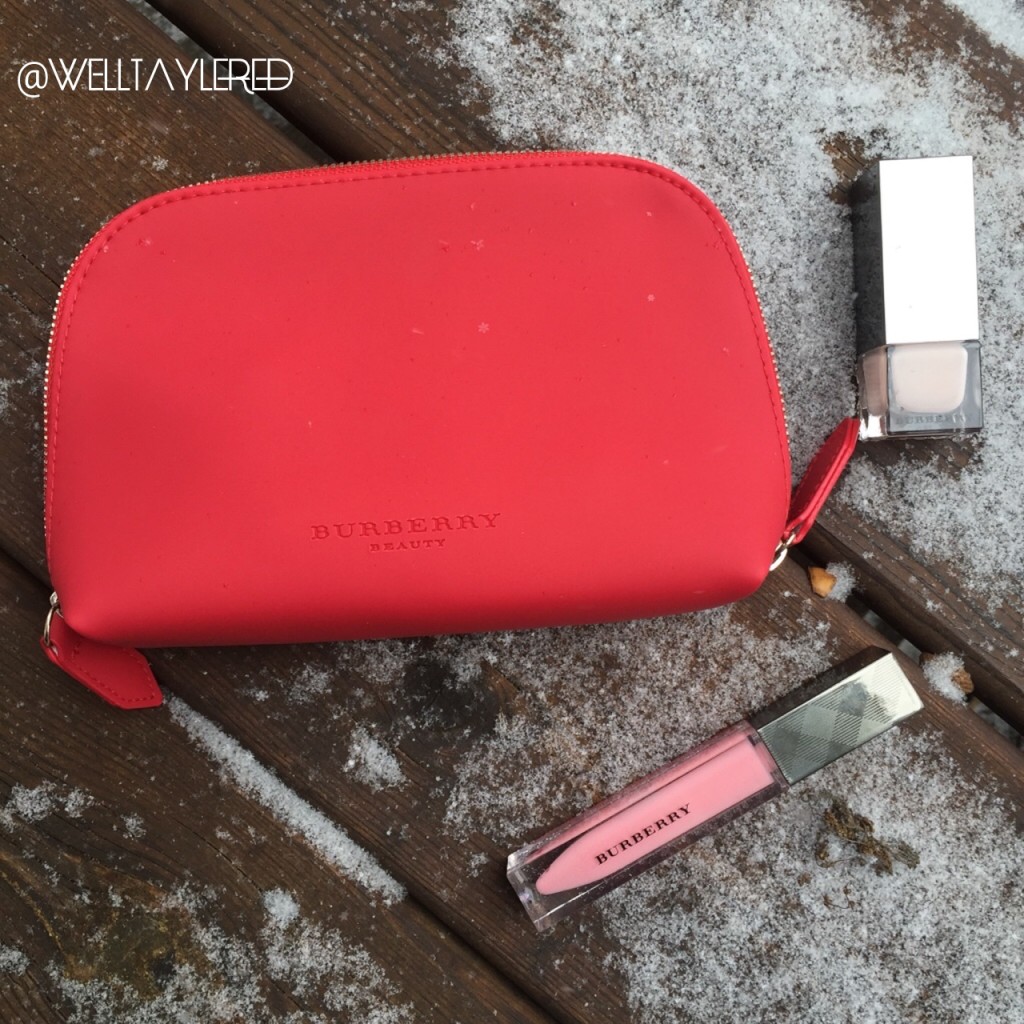 There's also a Gift with Purchase happening right now.  The offer ends March 21.  Simply spend $150 on Burberry Beauty and you will receive this red cosmetic pouch and 2 full-size products; the lip gloss in 'Fondant Pink' and nail polish in 'English Rose'.  To take advantage of this offer, contact Jamie: jamie.l.kristula@nordstrom.com or call (630) 571-2121.
(Disclaimer: I am not affiliated with Burberry or Nordstrom.  I was given the GWP ahead of time to let people know about the opportunity, but I purchased a few items just like everyone else.)
---
---
You might also like
---