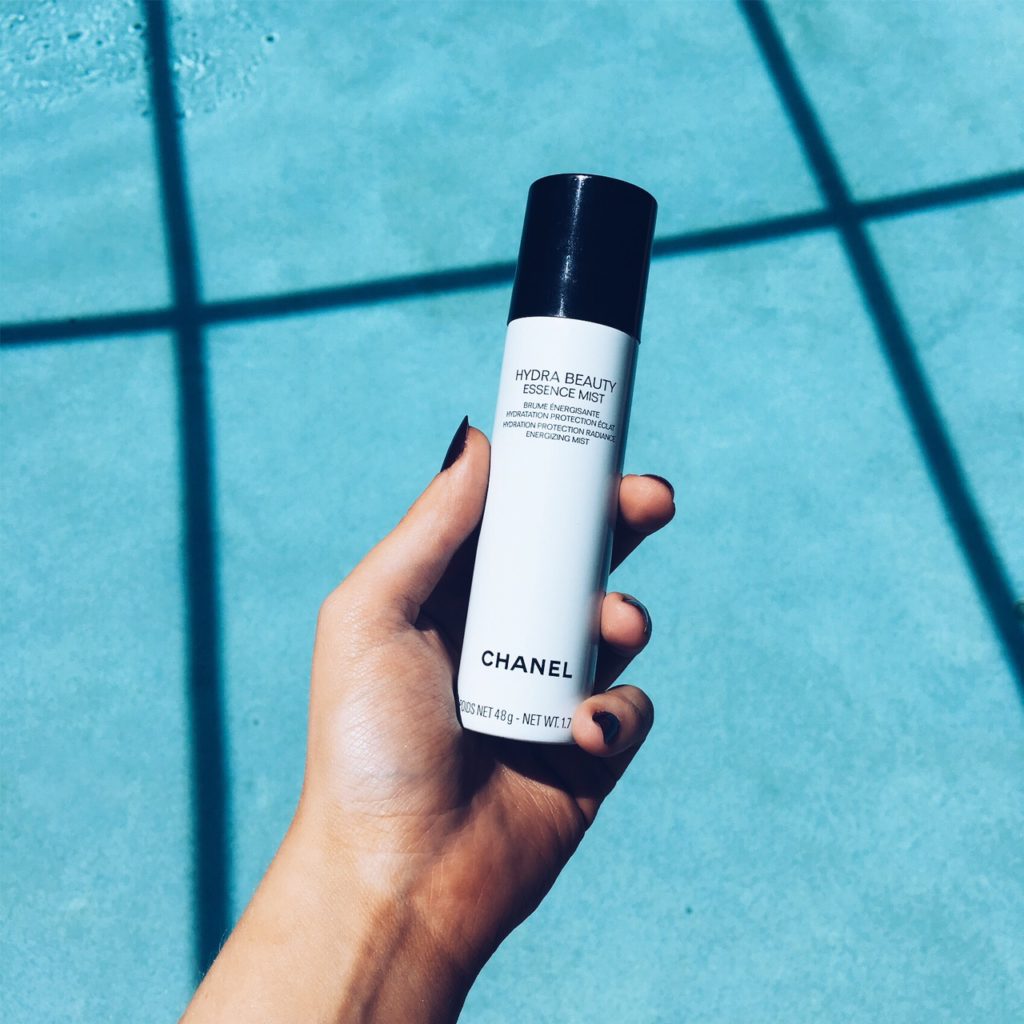 The queen of mists here, reporting in on my latest find, the Chanel 'Hydra Beauty Essence Mist'.  I spotted this a few months ago and quickly ran when I saw the price tag.  Macy's, however, had a cosmetics sale recently and for the first time, the discount included Chanel products!
Chanel states that the 'Essence Mist'  is "empowered by the moisturizing Camellia Alba PFA, and the antioxidant Blue Ginger PFA."  PFA refers to their "Polyfractioned Active"; An ultra-pure, ultra-powerful ingredient created through an exclusive purification technique developed by Chanel."  It's essentially Chanel's version of the 'Miracle Broth' by La Mer.  To me, it sounds a little hokey… Like a term they invented to make the mist sound more scientific than it really is.
They also claim that the "luxurious, lightweight spray hydrates with a fresh, cool, comforting mist of enriched moisture. Vitamin C and E, along with Hyaluronic acid, boost skin with a dose of nourishment that restores, strengthens and ultimately sustains skin at its most optimal state. Use under or over makeup for a refreshed look."
I use this product solely as a skin care product.  It's too expensive, in my opinion, to be used to refresh my makeup.  After I cleanse my face, I apply the mist as a toner.  Once it has sunk in, I then continue with the rest of my routine.
I think it has a lot more skin care properties than say Caudalie's 'Grape Water' (an all time favorite of mine).  I could also see this product being incredibly irritating to sensitive and acne-prone skin types due to the fragrance.  Chanel's notorious use of fragrance simply will not work for some people.
My final verdict is that the Chanel 'Hydra Beauty Essence Mist' definitely is not worth the $90 price tag.  Personally, I would have never purchased this if it wasn't for the discount.  If it was priced around the $50 mark, I would have been more likely to recommend this.  If you're in a duty free, you might want to give it a shot, but I wouldn't run to a cosmetic counter for this anytime soon.  Caudalie 'Grape Water' will continue to be my ride or die.
---
---
You might also like
---