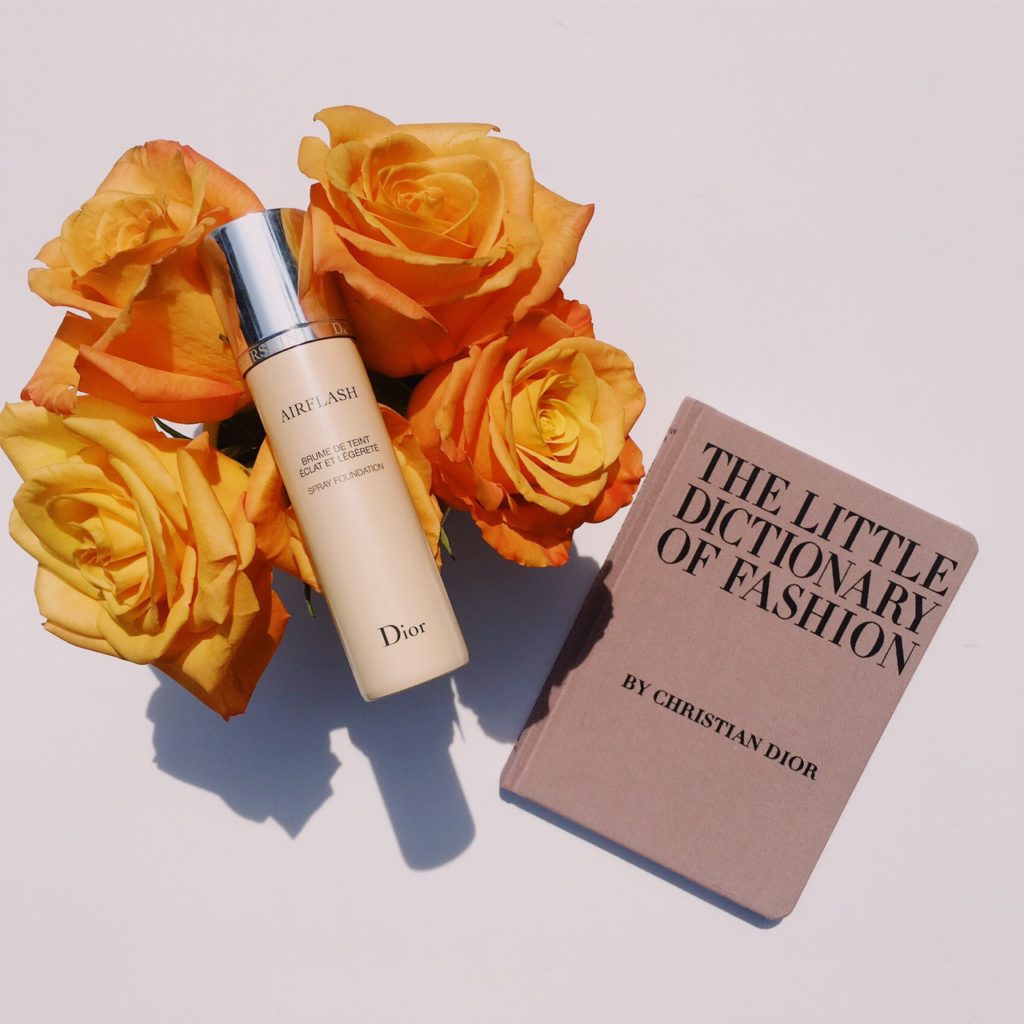 A few months ago, (encouraged by Macy's 10% off cosmetics sale), I decided to pick up Dior's 'Airflash' Foundation.  I tried this years ago and remember it being a bit overpriced, but again, the sale justified the purchase.  Now, let me tell you, I dedicated myself to testing to this foundation.  For weeks, I used nothing but 'Airflash'.  If only I could commit myself to the gym that much.  😉  My overall opinion is… ehh?
You can use this foundation in one of two methods; either spraying it on the face directly, as if you were using an airbrush machine, or by spraying it on the back of your hand and then using a brush or Beauty Blender to apply it to the skin.  For my first attempt, I sprayed it on the back of my hand and went in with a damp Beauty Blender.  Although this created a decent medium coverage, my thoughts were this; it's called 'Airflash' for a reason.  This is designed to be an "airbrush" foundation and by applying it to my hand and then to the face, that makes it absolutely no different than any liquid foundation I own.
For the remainder of the bottle, I sprayed away.  Shake, shake shake, hold a few inches away from the face, and spray, spray, spray.  I would then go in with my Beauty Blender and lightly tap the product into the skin.  Without tapping the product in, I find that the foundation is a little too greasy looking.  This is my preferred method, however, it does technically waste quite a bit of product.
'Airflash' doesn't leave an intense fragrance on the skin.  The finish is glowy, natural, and  beautiful.  My favorite aspect of this foundation is that it holds up in hot and humid temperatures.  I wore this mainly on a vacation to Florida this summer, where I felt as though I was literally sitting on the equator, and 'Airflash' completely held up.  I may have needed a touch-up here or there, but no splotchy, sweaty skin at all!  It being so quick to apply also makes it great for some light coverage at say the pool or beach.
My biggest qualm, however, is that because you waste product by spraying it, the foundation lasts about 4-5 weeks, okay, maybe 6 weeks if I'm being generous.  I did use it nearly every day for those 4-6 weeks.  For $62, that doesn't really seem like I got my money's worth.  Maybe it's just me?  Would I purchase this again?  Absolutely, especially prior to warm weathered vacations.  Am I running to the store to restock immediately?  Not so much.
A great alternative I would like to point out is Sephora Collection 'Perfection Mist Airbrush Foundation'.  It's a pretty close dupe for the 'Airflash' for half the price.  I don't think the Sephora 'Perfection Mist' is as glowy and radiant as the Dior, but I do think it may have more coverage.  If you have oily, problematic skin or are looking for more coverage, you may prefer Sephora's version, and for $28, you can't beat it.
---
---
You might also like
---