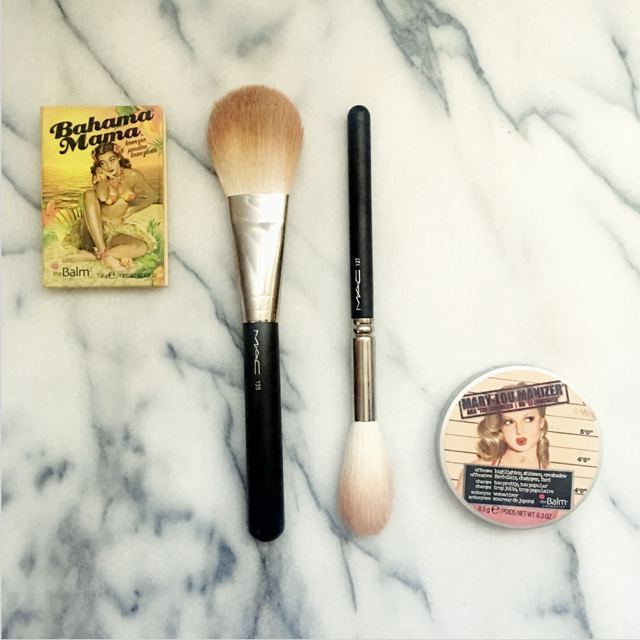 I was purchasing some Christmas presents a few weeks ago in MAC and clearly decided to treat myself as well.  I'm not the biggest fan of MAC brushes, as they tend to shed.  The last thing we need to do is pluck more hairs off our face than needed, am I right? 😉  I do, however, like their white, natural fibre brushes.  I'd heard pretty great things about the 135 & 137 on YouTube, but didn't cave until I saw them in person.  I was a bit of trepidatious as to whether they'd really be useful or necessary, so here are my thoughts…
This is a dome shaped brush that is very thin.  MAC states that it's designed for a "sheer wash of powder all over the face", but I prefer to use it for contouring.  I love that the bristles are compact enough to really chisel the cheekbones, but they're also soft enough to make the contouring appear more gentle and not so… Well, not so Kardashian for those of us just trying to go to Target on a Monday.  I think this brush is perfect for a bronzing novice.  You don't have to be super skilled to make this brush work for you.
I purchased the 137 brush with the intention of using it for highlighter.  I was struggling with the Becca Shimmering Skin Perfector Pressed.  They are so intense that I figured this type of long, blending brush would help me create a more subtle effect with them.  Thankfully, I was right!  This brush feels like little kitten paws on your face.  I think the 137 would also work splendidly with NARS blushes or anything with intense pigment.
Have you tried these brushes?  Let me know you like to use them!
---
---
You might also like
---