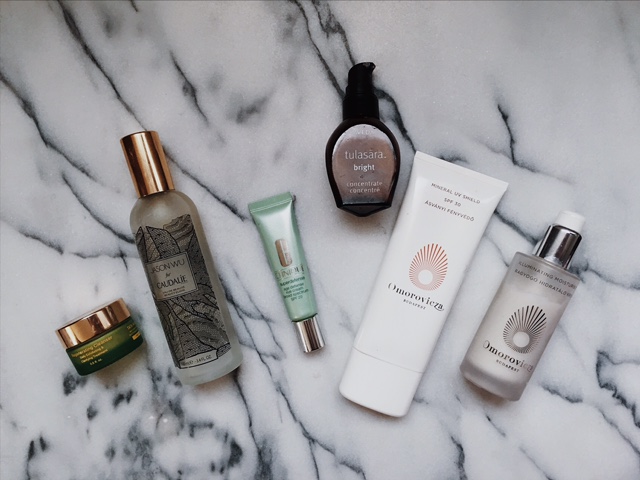 I am not a morning person, and I believe my skin care routine to be a reflection of this.  I try and keep it as simple and concise as possible.  Moisturizers are super important to me, not only for the obvious hydration they give, but because I feel that they can make or break my foundation.  The right moisturizer will give my foundation and skin a glow and the wrong kind will make the texture of my skin resemble a barnacle… dry and porous.  My main goals with my AM routine is to protect my skin from the sun and make sure the products I am using hydrate my face, but don't interfere with my makeup.
Cleanse:
To cleanse or not to cleanse?  That is the morning debacle.  Personally, as of late, I can't be bothered to wash my face in the morning.  I don't feel like it does anything for my skin and actually makes my foundation look worse.   I instead rehydrate my face with a mist.  Currently, I am using the Caudalie 'Beauty Elixir'.  This product has a cult following — especially amongst models!  The 'Elixir' does contain a lot of alcohol, so once this product is finished, I plan on moving to the Marc Jacobs 'Perfecting Coconut Setting Mist'.  I also recommend Heritage Store 'Rosewater & Glycerin', which is more natural and inexpensive.
On the off chance that I do feel the need to wash my face, I am loving Tata Harper's 'Purifying Cleanser'.  The micro-fine exfoliating beads and fruit extract in this product brighten and awaken my complexion.  I highly recommend!
Treat:
I skip toner mainly because the 'Beauty Elixir' acts as a toner and I feel like most toners (and now the newest fad, essences) do absolutely nothing.  I move straight onto a serum.  I'm currently using the 'Bright' Serum from Aveda's Tulāsara line.  It's super lightweight and not sticky at all so it's amazing under foundation.  I can't attest to whether or not it will actually help with hyperpigmentation, dark spots or acne marks.
Moisturize:
Clinique's 'Superdefense Age Defense' eye cream is one of my ultimate hero products.  I think this is my third tube of this stuff.  It's part of their age defense range, so it's supposed to ward off signs of premature aging.  People spend so much time protecting other areas of their face from sun exposure that they forget about their eyes.  Sun protection in your eye cream is a must, and this is one of the few out there!  I also can't get La Mer's concealer (now discontinued) to work without this eye cream.  It's my secret weapon!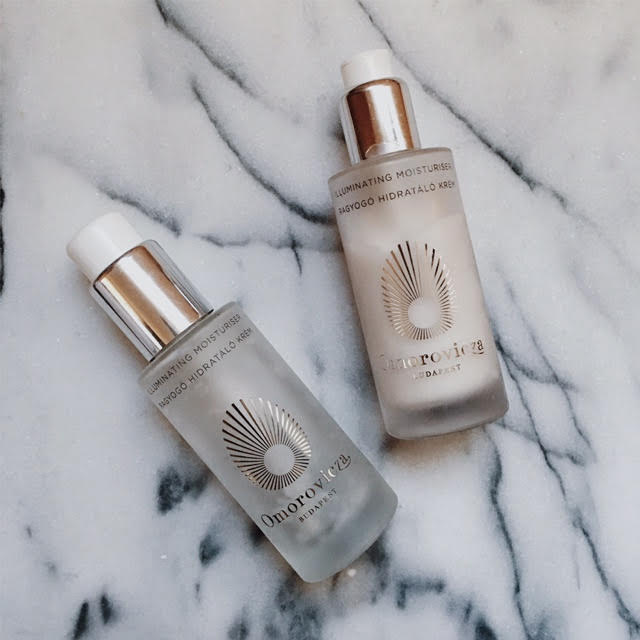 Omorovicza's 'Illuminating Moisturizer' is another hero product for me.  This is clearly a repurchase!  Omorovicza has quickly become my favorite skin care brand over the last year or two.  I love the elegant glass bottle and let's not forget about the functional pump… it's about time a company created one!  Just two or three pumps of this product are enough for my face and neck.  It's lightweight, but also has ingredients that are potent enough to make my skin glow, not grease!
Protect:
The last stage of this routine is the protection.  I am a huge advocate of sunscreen, and to be honest, completely avoiding the sun.  I am not looking forward to the day I will have to consider whether or not I want injections of some sort in my face, so my safest bet is to again ward off signs of aging with sunscreen.  I am loving Omorovicza's 'Mineral UV Shild'.  It also contains their signature Hungarian Thermal Water, as well as Vitamin C to reverse the signs of aging and produce collagen.  This sinks into the skin faster than any other product I've used and does not leave you feeling greasy.  A slightly more affordable alternative that I love is Coola's 'Face Mineral Sunscreen'.  
What skin care products are you loving currently?
---
---
You might also like
---