At this point we don't even need to discuss how thrilled I am with Burberry's beauty range, so I'm just going to get down to the nitty gritty– My most used products.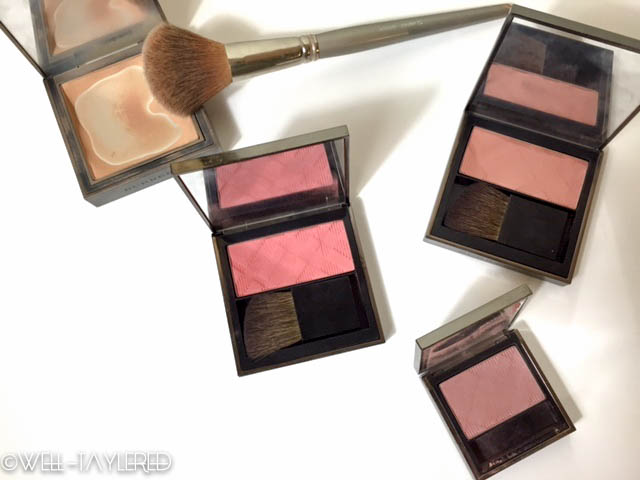 Sheer Luminous Compact Foundation: This is an everyday staple for me.  I buff this in with the Sephora Pro Airbrush Brush #55.  When I'm done applying all my makeup, I spritz my face with Caudalie's Grape Water, which helps bring out the luminosity of this powder.  It has subtle coverage and an intense, natural glow, minus the shimmer or oil slick look.  I use shade #7, which is perfect if you have light-medium skin.  I could go a little darker, but since I use bronzer everyday, I don't feel the need to.
My must-have blushes are: Blossom, Tangerine, and surprisingly, an eyeshadow– Tea Rose.  I actually use the brushes that Burberry supplies to apply the blush.  Tangerine is an earthy color, perfect for Fall.  Blossom is the ultimate floral color that can be used in any season.  Finally, Tea Rose (the eyeshadow) is a subtle, cool-toned rose perfect for girls who are looking for that "no blush blush".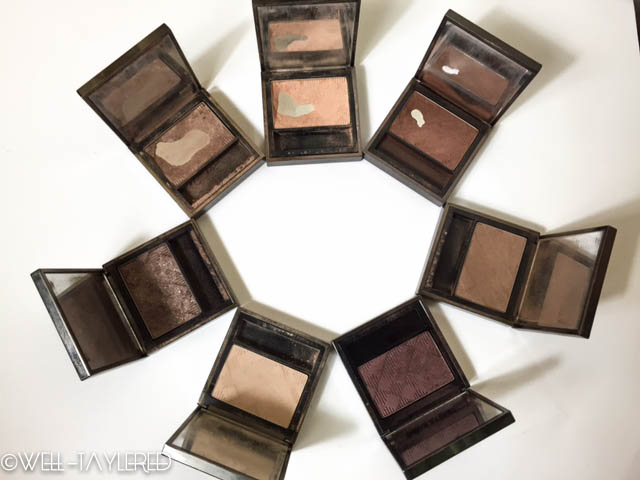 It was tough to narrow down the eyeshadow because I believe this is Burberry's star product.  Can you tell which are my favorites?  I've already hit pan on Pale Barely, Porcelain and Chestnut. Pale Barely is the ultimate all-over wash of color that flatters every skin tone and eye color.  Chestnut is the perfect warm brown– it really suits blue and brown eyes!  I usually place Porcelain on the lower lid to make my eyes look larger and brighter.  I also recommend Midnight Brown (don't worry, those sparkles won't show up on the lid) and Mulberry as a deeper crease color.  Trench and Almond can be used as transition shades or as an all-over wash of color.  Trench can also be used to highlight the brow bone on certain skin tones.
Take note: Burberry does have 2 "formulas" within their eyeshadow range.  Although they don't advertise this, some of their eyeshadow are seriously creamy (i.e. Pale Barely and Porcelain).  In my experience, many women with mature skin find that this texture makes their lids look more "crepey".  Burberry also has more dry textured eyeshadow (i.e. Trench and Almond), that work great in the crease because you can control where they go with more precision.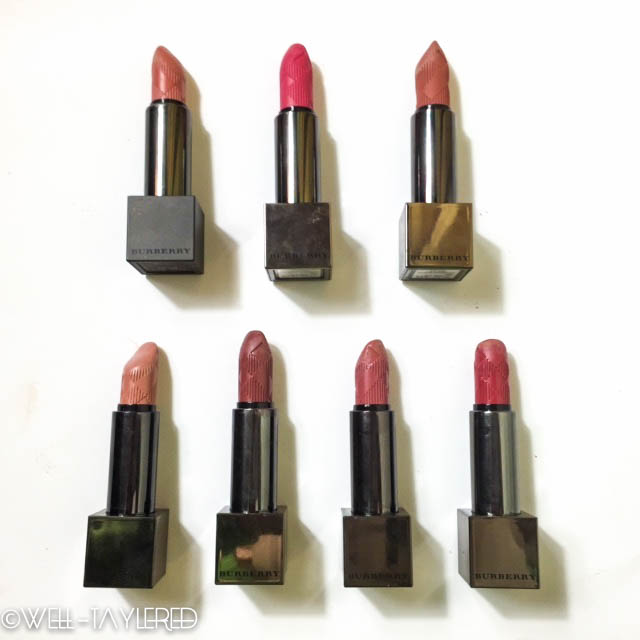 There are only two brands I will purchase lipstick from: Burberry and Nars.  FYI: Burberry lipsticks have distinct scent that turns some people off.  Personally, once I apply the lipstick, I don't notice the scent.  Here are just a few of my most-used lipsticks:
Lip Velvet (a creamier and a more opaque formula):  Pink Apricot
Lip Mists (a sheer wash of color, similar to a tinted balm): Camellia Pink and Copper
Lip Cover (a traditional lipstick formula): Nude Beige (Burberry's "stripper lips" color… every brand needs one!), Rosewood (this is the color Rosie Huntington-Whiteley is wearing in the Burberry campaign), English Rose (I'm always wearing this on YouTube with Buxom's Celeste on top) and Blush.
---
---
You might also like
---