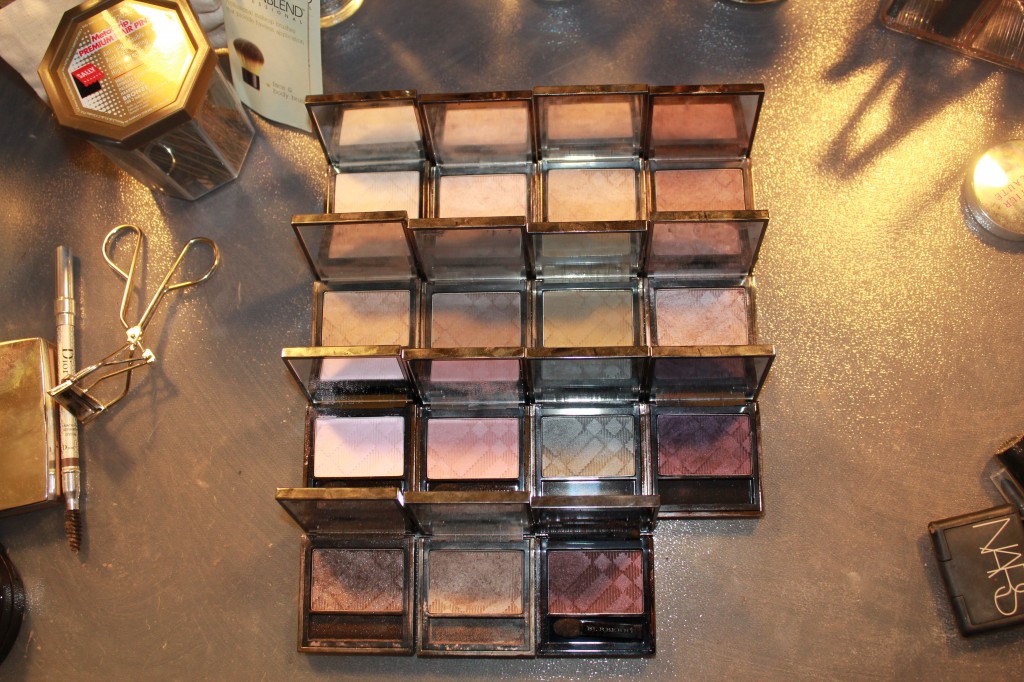 Voila!
Nothing says addiction quite like this photo.  Burberry clearly is my favorite makeup brand… I've become quite committed and rarely cheat on the Burb's.
A while ago, I made a video showing my eyeshadow collection.  I figured it is time for an update, not only to show you the news ones, but also to let you know which one's to grab first.
- Trench, Porcelain, Gold Tench, Chestnut.
(Can we say, I suck at swatches?  This ain't Temptalia. #LetzDeal)
* Trench – As you can see, it blends in with my skin.  I'd say it's a light-medium beige tone.  It's not white, beige, nor cream… it's the perfect mixture of them all.  Great base or blending shade!
* Porcelain – One of the most used shades I have.  It is frostier and has a more pink undertone than Trench.  I use this as a highlighting shade.  It's perfect for a natural daytime look because it isn't too shimmery.
* Gold Trench – I also use this one quite a lot.  It's a great base shade and is a bit darker than Trench. I'd say it's in between Trench and Almond.  It's a bit frostier and not quite as dark as Almond.
* Chestnut – A warm toned brown. I prefer this over cooler toned shades, like Taupe Brown.
- Almond, Taupe Brown, Khaki, Rosewood
* Almond – Great matte, light brown shade!  I use it as a natural crease color, but it's also great on its own.  You could spice it up and use a darker shade on the outer corner of your eye.
* Taupe Brown – Good shade… I can't say anyone would be disappointed by this, but I also don't think you'd be overwhelmed.  It's matte, which makes it rather versatile, as it can be used as a liner or to create depth.
* Khaki – In the YouTube video I made about these eyeshadows, I stated that Khaki was one of the most unique shades Burberry makes.  I still stand behind that statement.  It's a sort of light Army-green with a strong taupe undertone.  As you can see in the photo, it doesn't show up very green so there isn't any need to be frightened by this shade.  It's really unique!
* Rosewood – Love!  It's a bit frostier, cooler toned, and more plum than Pale Barely, but it's along the same lines.  Great base shade and makes green eyes pop!  Perfect plummy shade for the daytime, if you don't want to look like you're trying too hard.
- Pale Rose, Tea Rose, Pearl Grey, Midnight Plum
* Pale Rose – It's a frosty and iridescent light pink shade  Great highlighting shade!
* Tea Rose – Light, matte pink shade.  Normally I am turned off by any shade of pink.  I have this fear that it is going to bring out any redness in my face, but this particular shade is very subtle and makes a great base shade when you're looking to mix things up from the normal neutral shades.  It can also double as a great blush!
* Pearl Grey – This looks quite soft when swatched, but I actually use this for more dramatic smoky eyeshadow looks.  I think it is a testament to Burberry's greatness that you can make it either a soft grey for day or more intense for night.
* Midnight Plum – Great all-around deep plum shade.  This eyeshadow is great for a quick smoky eye!  I love to pack it on top of one of Armani's Eyes to Kill Intense eyeshadows and blend.
 - Midnight Brown, Pale Barely, Mulberry
 * Midnight Brown – The shimmery bits in this eyeshadow are a bit chunkier than any other color they make.  It's in between a warm and cool shade… a la Taupe Brown and Chestnut.  I do love this shade because it has more of a buttery texture than Taupe Brown, so it's really easy to blend.
* Pale Barely – HOLY GRAIL ITEM! THIS DESERVES EXTREME CAPITALIZATION.  This is one of those eyeshadows that if it were to ever be discontinued, I would literally go to London and strangle someone in the beauty department.  It is the perfect base shade for everyone, no matter your skin or eye color is.  It's an iridescent taupe shade with a tiny bit of a plum undertone.
* Mulberry – Love!  If you can get your hands on this, please do!  It's often sold out when I check at my  local counter.  I prefer this to Midnight Plum, if I had to pick between one, because it's more subtle.  It blends well and isn't too purple.  There is a brownish undertone to this shade.
I hope I've convinced you, because I know you won't be disappointed.
 If I had to pick my top 5 shades for you to go for first, they would be:
- Pale Barely, Porcelain, Midnight Brown, Gold Trench & Mulberry
Any questions? Let me know!
(PS: I buy all my Burberry at Nordstrom, and they usually have amazing gift with purchases… hold out until then.  PPS: Burberry just came out with eyeshadow quads! SHRIEKS!!!!)