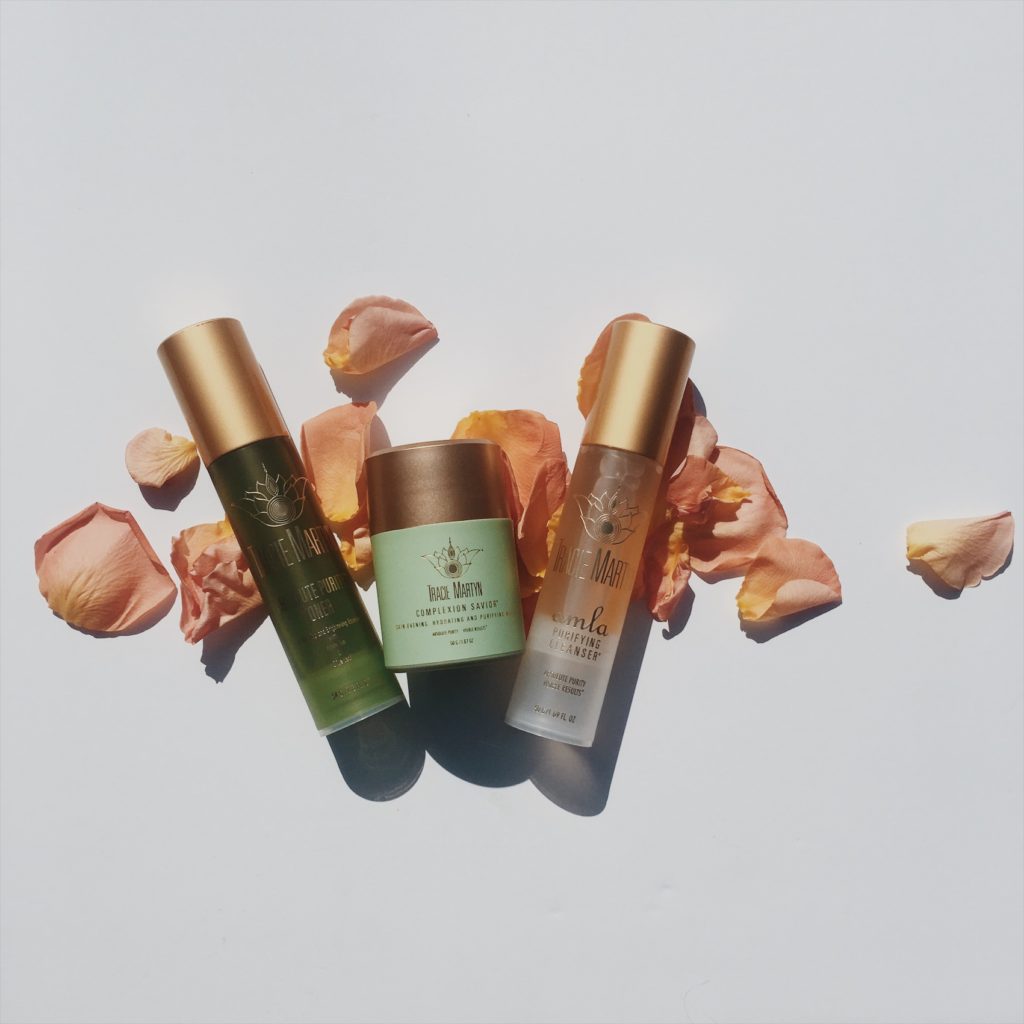 An alarming amount of products that I buy are from recommendations I pick up while watching Watch What Happens Live.  A few months ago, I saw Cydni Lauper (totally random, I know) on an episode and she looked bomb!  They even brought up how fab her skin looked on the show and she said it was the result of facials with Tracie Martyn.  Obviously, I whipped out Google and hoped Tracie had an range of products for those of us not able to have an actual spa experience with her.  Thankfully, she does!
It turns out Tracie Martyn is where the facial party is at.  I've officially added a facial with her to my "Beauty Bucket List".  To make a long story short, if you're famous and have perfect skin, it's thanks to this woman.  Just to name drop a few of her clients… Kate Winslet, Georgia May Jagger, Allison Williams, and Kim K loves her products, too.  I picked up three items:  the Amla Purifying Cleanser, Absolute Purity Toner, and Complexion Rescue Mask.
•••
Amla Purifying Cleanser – This claims to be an anti-aging cleanser.  The cleanser is described as a "pH-balanced, clarifying concentrate, that gently exfoliates and improves the skin's appearance by helping to prevent breakouts, minimize pores, even out the complexion, target fine lines and wrinkles, while also lifting your spirits with its refreshing aromatherapy scent including lime and spearmint."  Many of Tracie's products are influenced by Ayurvedic traditions, and the products tend to me very non-toxic and natural, which I love.  Caroline Hirons is also a fan of this cleanser.  My preferred way to use this product is as my second cleanse.  I remove my makeup with Oskia 'Renaissance Cleansing Gel' and then apply a few pumps of the Amla Purifying Cleanser to remove any additional residue and keep my skin blemish free.
Absolute Purity Toner –  In general, I am not a huge fan of toners, as I have found that many of them don't do much of anything.  I usually gravitate more towards a nice mist.  This toner, however, happens to be the best one I've tried to date.  I apply a few pumps to an organic cotton pad and give my face a good rub down.  The olive leaf and rosebay willow herb found in this toner gives my face a good tingle.  It could be a placebo effect, but when I feel that "skin care tingle", it makes me think that something is actually working.
In my opinion, this product is ideal for combination to oily skin and acne-sufferers.  I will, however, say that I think all skin types could honestly use this.  I have normal skin, for instance, that goes a little combination in the summer months.  This toner in no way dries my skin out and I actually think it helps keep my skin clear.  It claims to help with acne scars as well.  I am prone to the occasional breakout and those pesky red marks are nearly impossible to get rid of.   My only wish is that this came in a larger size.  Tracie's products are not cheap.  This, for instance, is $60, and is only 1.8 fl. oz.  On average, most toners are between 5-6.7 ounces, so that is a pretty big difference.
Complexion Savior Mask – This mask is for skin evening, hydrating, and purifying.  It can also be used as a spot treatment, which I have yet to try.  Aloe helps balance out the purifying ingredients in this product so you will not have red, irritated skin — ideal for sensitive skin types.  If you're suffering from the occasional breakout or redness, you will love this!  Some masks leave the skin feeling dry and tight or too greasy and heavy.  This is the perfect balance.  You can easily put this on the skin for 5-15 minutes, wash off, and then go about your makeup routine.
The mask is a gel consistency and doesn't have a strong scent, which I love!  There's nothing worse than being buried under a smelly facial mask.  You are instructed to place a thin layer over your skin, and I prefer to leave the mask on for the maximum recommended time of 15-minutes.  Even with my semi-sensitive skin, there are no adverse side-effects.  I wash it off with cool water and my skin is instantly smoother.  This is why I love using this prior to makeup application.  As I said above, there is no tightness or residue, so it's perfect before a big night out or special occasion.
•••
Tracie's skin care philosophy also has me reexamining my diet.   I've really been working on reducing the amount of refined sugar that I eat, which I have discovered is the culprit for my breakouts.  I also picked up Alma powder to add to my smoothies!  Tracie's skin care range is quite a refreshing change from what's generally on the market, and I can't speak highly enough of it.  The holistic, Ayurvedic approach is something I personally care deeply about and works best for my skin and lifestyle.
Have you tried any new skin care products or brands lately?
---
---
You might also like
---